Spike Busters & Surge Protectors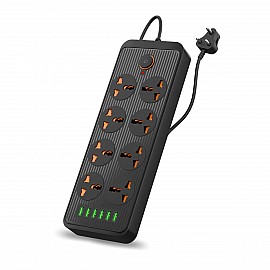 Power Plate 7 With 6 USB Port + 8 Power Sockets Power Converter8 Power Sockets For Multiple Use : The power converter has 8 separate power sockets for efficient multi-tasking. The power board ensures that equal power is distributed throughout the plugged in devices.6 USB Ports with 2.1A Total Output : Power Plate 7 has 6 USB ports that have a uniform power output of 2.1A. This feature ensures that the plugged in devices get efficient power output throughout their run time.Cord Length of 3M : Pow..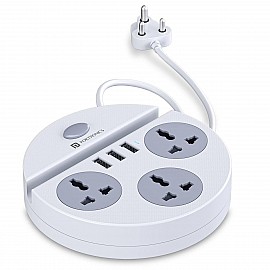 Power Plate 5 Universal Extension Board with 3 USB Charging Ports + 3 Power Sockets, Mobile Holder and 2.1A Fast ChargingMulti-task efficiently: Power Plate 5 is a one-stop for all your charging needs. It is equipped with 3 USB Charging Slots + 3 Power Sockets that allows you to charge multiple devices at one go.Universal Compatibility: Charge any device with Power Plate 5 Extension Board without worrying about compatibility anymore. It has a universal application.Sturdy Design: It has a Compact..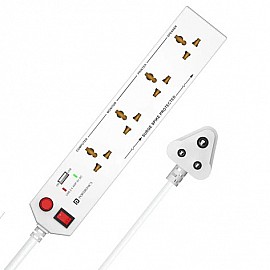 USB Power & Surge ProtectorUSB Power & Surge Protector: Portronics Power Plate 4 comes with four 5A electrical universal sockets for powering all types of high voltage devices. It also comes with a USB Output socket that is 2.4 AMP 5V DC to charge your phones and tablets easily.Multi-purpose Usage: Portronics Power Plate 4 provides an opportunity of charging multiple devices at one time. For example, it provides power for charging your phone, your television set, DVDs, computers, home ap..
Showing 1 to 3 of 3 (1 Pages)