ADATA Premier Pro SP600 256GB Internal SSD
Product Code:
SP600 256GB
Overview
    The Premier Pro SP600 SATA III 6Gbps SSD implements the latest firmware optimization techniques and is comprised of strictly selected Flas...
IN THE BOX
Sales Package
Internal Hard Drive, Cable
GENERAL
Model ID
ASP600S3-256GM-C
OS Compatibility
Windows: XP, Vista, 7, Mac OS X, Linux
Brand
ADATA
Series
Premier Pro
DRIVE CONFIGURATION
Device
SSD
Device Type
2.5 inch SSD
Drive Capacity
256GB
Form Factor
2.5 inch
Interface
SATA 6Gb/s
Reliability
1000000 hours (Mean Time between Failures)
POWER
Idle
0.7W
Power Consumption
1.5W
OTHER FEATURES
Other Features
Multi-Level Cell (MLC) NAND Flash Memory, Controller: JMicron JMF661, IO Meter - IOPS: 40K (Maximum 4KB Random Read), IOPS: 30K (Maximum 4KB Random Write), Power Consumption: 1.5 Watts (Active), Shock Resistance: 1500G, ECC Recovery: Upto 40 bits Correctable Per 1K-byte Sector (BCH), Max Operating Altitude: 1200m, Certifications: CE / FCC / VCCI / BSMI, Durable, Low Temperature, Quiet, Ultra Fast, Low Power Consumption
OPERATING CONDITIONS
Non-Operating Humidity
5 % - 90 % RH
Non-Operating Temperature
-40°C ~ +85°C
Operating Humidity
10 % - 90 % RH
Operating Temperature
0°C ~ +70°C
Shock Tolerance
1500 G (Operating)
DIMENSIONS
Dimensions
69.85 x 7 x 100 mm
Weight
68g
WARRANTY
Warranty
3 Years Manufacturer's Warranty

The Premier Pro SP600 SATA III 6Gbps SSD implements the latest firmware optimization techniques and is comprised of strictly selected Flash memory chips. Powered by the JMicron controller, it offers outstanding performance with sequential read and write speeds of 480 and 250Mbps, and 4KB random read/write speeds of up to 60,000/60,000 IOPS. It is the best storage solution choice for consumers considering a first time hardware upgrade.

Delivering You Into the New World of Solid State Drives
Premier Pro SP600 Solid State Drive offers continuous read and write speeds of up to 480 and 250MB per second, with 4KB random read/writes up to 60,000/60,000 IOPS. Capacities of 32, 64, 128 and 256GB, combined with increased durability, reliability, and quietness over traditional hard disks, all mean better performance than ever for your system.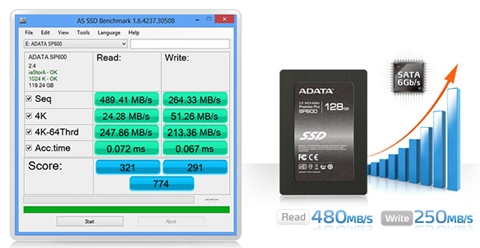 Reasons to Make the Switch to SSD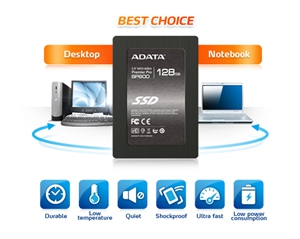 With the increasing popularity of computing with the use of more diverse applications, computational speed has become a major consideration when buying computers. In video editing, large picture retouching, and computer drafting, reading and writing operations rely on fast and stable data storage.

The SP600 adopts specially selected Flash chips from reliable manufacturers, and supports the Windows TRIM command. In both desktop and notebook computers, users will enjoy an unprecedented high-speed experience. In addition to these benefits, the SP600 offers low power consumption, low heat generation, and shock resistance.
The SP600 Comes Packaged Especially for Desktop Upgrades, with the Inclusion of a Conversion Bracket
Desktop Pack
Comes with a 3.5-inch conversion bracket to help you mount the SP600 when you are upgrading a desktop computer, allowing you to immediately enhance the performance and transmission speed of your operating system.

Peace of Mind with a Three-Year Warranty


With premium flash memory inside, the SP600 comes with a three-year warranty, giving you the benefit of high speed and the best protection at the same time.