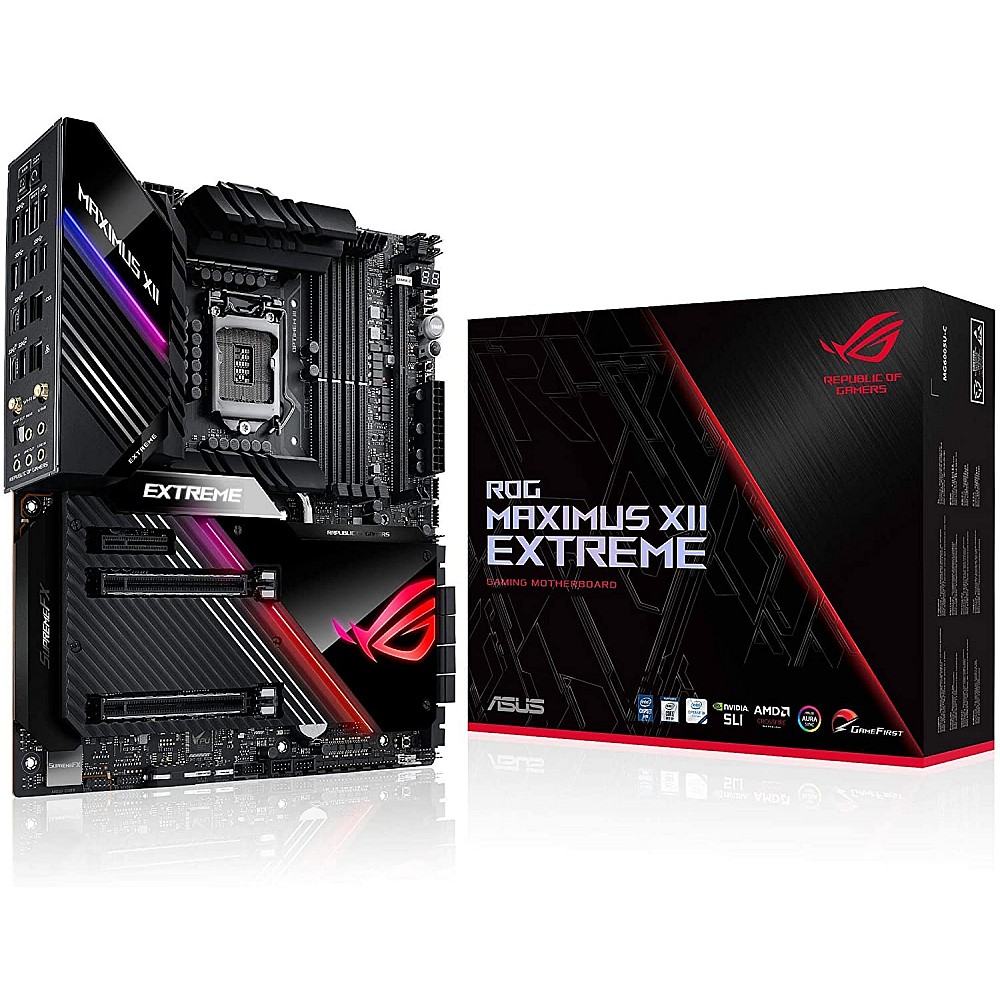 Asus ROG Maximus XII Extreme Z490 (WiFi) Motherboard with Thunderbolt card 3-TR Card, Intel Wi-Fi 6 AX201, BT v5.1, Marvell AQtion AQC107 10GbE LAN, Intel I225-V 2.5 10GbE LAN- LGA1200 Socket
₹68,200
M.R.P: ₹70,000
You save: ₹
FREE Delivery
Inclusive of all taxes
Product Code:
ROG Maximus XII Extreme
Availability:
Out Of Stock
Product Description
Expertly tuned by our ROG Engineers to bring you the ultimate performance. Made to be extreme as the name suggested, is positioned for max performance water-cooling enthusiasts. Combining hardware and software, to achieve optimized overclocking, high-speed memory support and comprehensive water and fan cooling controls, Maximus XII Extreme delivers ultimate performance combined with efficient, reliable operation.
Intelligent Motherboard
Our ROG engineers developed and extensively-tested intelligent software solutions to ensure your system stays in optimal condition.
AI Overclocking
Tuning is now faster and smarter than ever before. AI Overclocking profiles the CPU and cooling to predict the optimal configuration for each system.
AI Cooling
AI Cooling automatically manages and controls motherboard connected fans, ensuring the most efficient settings depending on the current system load and temperature.
AI Networking
GameFirst VI optimizes and organizes network bandwidth, effectively reducing jitter and eliminating spike lag to ensure smooth online gameplay.
PERFORMANCE
Maximus XII Extreme is the ideal foundation for your dream gaming build. An intelligent voltage-regulator module (VRM) design and high-quality components ensure that you'll get the most out of demanding latest-generation Intel processors. More firepower and an overclocking edge are yours with Maximus XII Extreme.
COOLING
Featuring premium components, multiple fan headers and a bundled fan extension card, Maximus XII Extreme is fully equipped to enable higher performance at lower temperatures. To ensure system stability under heavy CPU loads, Maximus XII Extreme employs large VRM and chipset heatsinks that strike the right balance between surface area and mass. The extra-large heatsinks also cover multiple M.2 slots.
OPTIMIZATION
ROG provides the tools needed to optimize your system quickly and easily. For those who relish complete control, the UEFI BIOS offers advanced customization options so you can tweak every aspect of your system.
CONNECTIVITY
ROG Maximus XII Extreme offers advanced connectivity, including WiFi 6 (AX201) and dual Ethernet with intel® 2.5G Ethernet and 10G port to eliminate bottlenecks so you can enjoy exceptionally smooth online and LAN play. Additionally, the M.2 supports Intel® VROC technology to maximize the speed of your SSD for faster load times, and SupremeFX on-board audio provides superb sound, while saving a PCIe slot.
PERSONALIZE
In addition to extraordinary performance, Maximus XII Extreme provides extensive styling and customization options to let you build a system that truly stands apart.
10TH GEN INTEL® CORETM PROCESSORS
Elite real-world performance
NEW KEY DESKTOP FEATURES
Up to 5.3 GHz clock speed with Intel® Thermal Velocity Boost
Intel® Turbo Boost Max Technology 3.0
Memory Support with DDR4-2933
Up to 10 cores and 20 threads
Intel® Hyper-Threading Technology from the Intel® Core™ i9 to the Intel® Core™ i3 desktop processor
New 2.5 G Ethernet
New Wi-Fi 6 (Gig+)
Bundled Thunderbolt™ 3 Expansion Card
At a breathtaking 40Gbps you'll experience faster transfers, with four times (4X) the data speeds of any other cable and twice (2X) the video bandwidth.
USB 3.2 Gen 2x2
Reversible USB 3.2 Gen 2x2 Type-C™ ports provide ultimate flexibility and blazing data-transfer speeds
USB 3.2 Gen 2 front-panel connectors
Two front-panel USB 3.2 connectors area ready to accommodate a wide variety of devices.
Storage
Maximus XII Extreme supports up to four onboard M.2 drives to maximize storage. Two can be found on the ROG DIMM.2 module, next to the memory slots, and supports drives as long as 110 mm. The other two can be found under the aluminum heatsink cover. PCIe support ensures compatibility with the very latest NVMe SSDs for ultrafast transfer speeds.
ROG DIMM.2
The ROG DIMM.2 module is an innovative expansion card that allows two M.2 drives to be connected via a DDR4 interface. You can then add a metal heatsink, helping to control thermals for maximum performance while elevating the aesthetics.
*DIMM.2 accommodates M.2 drives up to 22110 (110mm) in length
AUDIO - SupremeFX
ROG SupremeFX audio technology has levelled up, delivering an exceptional 113 dB signal-to-noise ratio on the line-in connection to provide best-ever recording quality. There's also a low-dropout regulator for cleaner power delivery to the SupremeFX S1220 codec, an ESS® ES9023P digital-to-analog converter for superior front-panel output, and a Texas Instruments® RC4580 op amp for high gain with low distortion — all to deliver audio that envelops you as never before.
SPECIFICATIONS:
Model
ROG MAXIMUS XII EXTREME
CPU
Intel® Socket 1200for 10th Gen Intel® Core™, Pentium® Gold and Celeron® Processors
Supports Intel® 14nm CPU
Supports Intel® Turbo Boost Technology 2.0 and Intel® Turbo Boost Max Technology 3.0**
* Refer to www.asus.com for CPU support list
**Intel® Turbo Boost Max Technology 3.0 support depends on the CPU types.
Chipset
Intel® Z490 Chipset
Memory
4 x DIMM, Max. 128GB, DDR4 4800(O.C.)/4700(O.C)/4600(O.C)/4500(O.C)/4400(O.C)/4266(O.C.)/4133(O.C.)/4000(O.C.)/
3866(O.C.)/3733(O.C.)/3600(O.C.)/3466(O.C.)/3400(O.C.)/3333(O.C.)/3200(O.C.)/3000(O.C.)/2933/2800/2666/2400/2133 MHz Non-ECC, Un-buffered Memory *
Dual Channel Memory Architecture
Supports Intel® Extreme Memory Profile (XMP)
OptiMem III
* 10th Gen Intel® Core™i9/i7 CPUs support 2933/2800/2666/2400/2133 natively, Refer to www.asus.com for the Memory QVL (Qualified Vendors Lists).
Multi-GPU Support
Supports NVIDIA 2-Way SLI® Technology Supports AMD 3-Way CrossFireX™ Technology
Expansion Slots
Intel® 10th Gen Processors
2 x PCIe 3.0 x16 (x16 or dual x8)
Intel® Z490 Chipset
1 x PCIe 3.0 x4 *1
Storage
Total supports 4 x M.2 slots and 8 x SATA 6Gb/s ports
Intel® 10th Gen Processors :
1 x ROG DIMM.2 Module supports 2 M.2 Socket 3 , with M key, type 2242/2260/2280/22110 storage devices support (PCIE 3.0 x 4 mode)*2
Intel® Z490 Chipset :
1 x M.2_1 socket 3, with M Key, Type 2242/2260/2280 (PCIE 3.0 x4 and SATA modes) storage devices support*3
1 x M.2_2 socket 3, with M key, type 2242/2260/2280 storage devices support (PCIE 3.0 x 4 mode)
8 x SATA 6Gb/s port(s)
Support Raid 0, 1, 5, 10
Intel® Rapid Storage Technology supports
Intel® Optane™ Memory Ready
LAN
Intel® I225-V 2.5Gb Ethernet
Marvell® AQtion AQC107 10Gb Ethernet
ASUS LANGuard
Wireless Data Network
Intel® Wi-Fi 6 AX201
Supports up to 2.4Gbps max data rate
Supports dual band frequency 2.4/5 GHz
Supports channel bandwidth: HT20/HT40/HT80/HT160
Supports CNVI interface
Bluetooth
Bluetooth v5.1*
*BT 5.1 function will be ready in Windows 10 build 19041 or later.
Audio
ROG SupremeFX7.1 Surround Sound High Definition Audio CODEC S1220
- Impedance sense for front and rear headphone outputs
- High quality120dBSNR stereo playback outputand113dBSNR recording input
- ESS™ ES9023 DAC + RC4580 OP AMP
- Supports up to 32-Bit/192kHz playback
LED-illuminated audio jacks
Audio Feature :
- SupremeFX Shielding™ Technology
- Optical S/PDIF out port(s) at back panel
- Premium Japanese audio capacitors
- Audio Cover
* Due to limitations in HDA bandwidth, 32-Bit/192kHz is not supported for 8-Channel audio.
- Supports : Multi-streaming, Front Panel Jack-retasking
USB Ports
Rear USB Port ( Total 12 )
1 x USB 3.2 Gen 2x2 port(s)
3 x USB 3.2 Gen 2 port(s)(2 + Type-A +1 + USB Type-CTM)
6 x USB 3.2 Gen 1 port(s)(6 x Type-A)
2 x USB 2.0 port(s)(2 x Type-A)
Front USB Port ( Total 10 )
2 x USB 3.2 Gen 2 front panel connector port(s)
4 x USB 3.2 Gen 1 port(s)
4 x USB 2.0 port(s)
Software Features
ROG Exclusive Software
- Mem Tweakit
- RAMCache III
- ROG CPU-Z
- GameFirst VI
- Sonic Studio III + Sonic Studio Virtual Mixer
- Sonic Radar III
- DTS® Sound Unbound
- Overwolf
- BullGuard Internet Security (1-year full version)
ASUS Exclusive Software
Armoury Crate
- Aura Creator
- Aura Sync
- OLED Display
AI Suite 3:
- 5-Way Optimization with AI Overclocking
TPU
EPU
Digi+ Power Control
Fan Xpert 4
Turbo app
- EZ update
AI Charger
WinRAR
UEFI BIOS
AI Overclocking Guide
ASUS EZ DIY
- ASUS CrashFree BIOS 3
- ASUS EZ Flash 3
- ASUS UEFI BIOS EZ Mode
FlexKey
ASUS Special Features
ROG Extreme OC kit
- EZ PLUG
- FlexKey button
- LN2 Mode
- Probelt
- ReTry button
- Safe boot button
- Start button
- Slow Mode
Extreme Engine Digi+
- 10K Black Metallic Capacitors
- Infineon TDA21490 Power Stage
- MicroFine Alloy Choke
ASUS Q-Design
- ASUS Q-Code
- ASUS Q-Connector
- ASUS Q-LED (CPU [red], DRAM [yellow], VGA [white], Boot Device [yellow green])
- ASUS Q-Slot
ASUS Thermal Solution
- Aluminum M.2 heatsink cover
- Steel backplate
ASUS EZ DIY
- BIOS Flashback™ button
- Clear CMOS button
- Procool II
- Pre-mounted I/O shield
- SafeSlot
AURA Sync
- ROG Aura sync backplate
- Standard RGB header(s)
- Addressable Gen 2 RGB header(s)
LiveDash OLED 2"
Back I/O Ports
1 x LAN (2.5G) port(s)
1 x USB 3.2 Gen 2x2 port(s) (1 x USB Type-C®)
3 x USB 3.2 Gen 2
6 x USB 3.2 Gen 1
2 x USB 2.0
1 x Optical S/PDIF out
1 x Clear CMOS button(s)
1 x USB BIOS FlashBack™ Button(s)
1 x ASUS Wi-Fi Module
5 x LED-illuminated audio jacks
1 x Aquantia AQC-107 10G LAN port
Internal I/O Ports
1 x CPU Fan connector(s)
1 x CPU OPT Fan connector(s)
2 x Chassis Fan connector(s)
2 x W_PUMP+ connector
1 x WB_SENSOR
8 x Radiator Fan Headers
1 x W_IN header
1 x W_OUT header
1 x W_FLOW header
1 x Node Connector(s)
1 x AAFP connector
2 x Aura RGB Strip Headers
2 x Addressable Gen 2 header(s)
2 x USB 3.2 Gen 1(up to 5Gbps) connector(s) support(s) additional 4 USB 3.2 Gen 1 port(s)
2 x USB 2.0 connector(s) support(s) additional 4 USB 2.0 port(s)
1 x M.2 Socket 1 with M key, type 2242/2260/2280 storage devices support (SATA & PCIE 3.0 x 4 mode)
1 x M.2 Socket 2 with M Key, type 2242/2260/2280 storage devices support (PCIE mode only)
8 x SATA 6Gb/s connector(s)
1 x Thunderbolt header(s)
1 x 24-pin EATX Power connector(s)
2 x 8-pin ATX 12V Power connector(s)
1 x 4-pin EZ_PLUG Power connector(s)
1 x Slow Mode switch(es)
8 x ProbeIt Measurement Points
1 x Thermal sensor connector(s)
1 x BIOS Switch button(s)
1 x LN2 Mode jumper(s)
1 x Safe Boot button
1 x ReTry button
1 x System panel connector
1 x Speaker connector
1 x DIMM.2 Slot supports 2 M.2 drives (2242-22110)
2 x RSVD Switch
1 x Start button
1 x FlexKey button
2 x USB 3.2 Gen 2 front panel connector
Accessories
User´s manual
1 x ROG logo plate sticker
3 x M.2 Screw Package
1 x MOS Cooling kit (fan bracket and 40mm x 40mm fan)
1 x Fan Extension Card II (6 x 4-pin Chassis Fan connectors, 3 x RGB headers, 3 x 2-pin Thermal sensor header)
1 x Fan Extension Card II power cable
1 x Fan Extension Card II NODE connector cable
1 x Fan Extension Card II screw package
2 x mini DisplayPort Cable
1 x ROG big sticker
1 x Q-Connector
1 x Wi-Fi Antenna(s)
1 x Extension Cable for RGB strips (80 cm)
1 x Extension cable for Addressable LED
3 x Thermistor cable(s)
1 x USB drive with utilities and drivers
8 x ROG weave SATA 6G cable
1 x ROG DIMM.2 with heatsink
1 x ROG Multi-Bit screwdriver
1 x THUNDERBOLTEX 3-TR Card
1 x ASUS TB header cable
1 x USB2.0 Cable
ROG key chain
2 x M.2 Pad for ROG DIMM.2
1 x 2-in-1 Rubber pad
BIOS
2 x 256 Mb Flash ROM, UEFI AMI BIOS
Manageability
WOL by PME, PXE
Form Factor
Extended ATX Form Factor
12 inch x 10.9 inch ( 30.5 cm x 27.7 cm )
Special Note
*1 PCIEx4 slot shares bandwidth with SATA6G_56 and PCIEx4 slot is default set at x2 mode. Please adjust BIOS settings to enable Thunderbolt card.
*2 The DIMM.2 Slots are disabled by default. Please adjust BIOS settings to enable DIMM.2 Slots.
*3 When M.2_1 is operating in SATA mode, SATA6G_2 will be disabled.
*4 USB 3.2 Gen 2x2 works at PCIe 3.0 x2 speeds
Warranty
3 Years
Country Of Origin
China
Manufacturer
ASUS GLOBAL PTE LTD.
15A Changi Business Park Central 1,
#05-01, Eightrium, Singapore 486035
Importer
Rashi Peripherals Pvt.Ltd.
Rashi Complex,"A" Building, Survey 186,
Dongaripada, PomanVillage,
Vasai Bhiwandi Road,
Dist. Thane, Maharashtra - 401208 India
Net Quantity
1
Note

***Features, Price and Specifications are subject to change without notice.
When you order from thevaluestore.in, you will receive a confirmation email. Once your order is shipped, you will be emailed the tracking information for your order's shipment. You can choose your preferred shipping method on the Order Information page during the checkout process.
The total time it takes to receive your order is shown below:
The total delivery time is calculated from the time your order is placed until the time it is delivered to you. Total delivery time is broken down into processing time and shipping time.
Processing time: The time it takes to prepare your item(s) to ship from our warehouse. This includes preparing your items, performing quality checks, and packing for shipment.
Shipping time: The time for your item(s) to tarvel from our warehouse to your destination.
Shipping from your local warehouse is significantly faster.

In addition, the transit time depends on where you're located and where your package comes from. If you want to know more information, please contact the customer service. We will settle your problem as soon as possible. Enjoy shopping!